Well, introductions first.

I'm Jennifer and I LOVE arts and crafts of all kinds. I'm an unpublished novel writer and currently a freelance videographer. I was always artistic and loved all kinds of art all the way through K -12. In high school, I started making jewelry and picking up arts and craft projects like sewing, cooking, etc. Then about 3 years ago, I read these books (maybe you've heard of them) the Twilight series. And I joined TwilightMOMS.com where my arts and craftiness soared and I started my Etsy with Twilight jewelry (now retired) at: http://jd1360.etsy.com (I never foresaw me actually using Etsy to sell, so I didn't bother coming up with a cute name, I regret it now...)
I became an Aro moderator over the Arts and Crafts section and predominately over the Apparel and Decor forum where I learned a lot about all crafts in all forms. (I'm MajorWhitlock on TMs) I'm also the Assistant Administrator on MundieMoms.com, presiding over graphic design (Chairman Meow on MMs).
Aside from all the website stuff, I have participated in two Altered Book round robins (and currently doing a third), altered clothes, shoes and art, scrapbooked, baked decorative cakes, made invitations, designed T-shirts, and oh man, even more! I'm pretty sure there is not a medium I haven't dabbled in at some point.

So, back to the original purpose of the blog. After successfully creating my Twilight jewelry line, I created the Camp Half Blood necklace for the Percy Jackson series and I even though I really do NOT blogs, I was thinking there should be a blog that's dedicated to fandom jewelry and crafts. Boy, is that up MY alley....
Since I love books AND movies, why don't I do both? Spread the love! However I do have few rules (hey, it comes with everything right?).

1. NO copy write infringement. As a film student, the basic principle of not getting a logo you can't pay for or own in a shot is beaten into your head. Same thing. Book covers, movie images, movie logos and designed owned by production companies will not be advertised. This includes things like, the Cullen crest and Robert Pattinson. Unless you took the picture yourself.

... well that's the only rule I have for now! But it's a very important rule!
Please note that this blog is NOT for web banners or images; things created on Photoshop. This is for physical and usually for sale products.

Now I'm going to show some of my past crafties!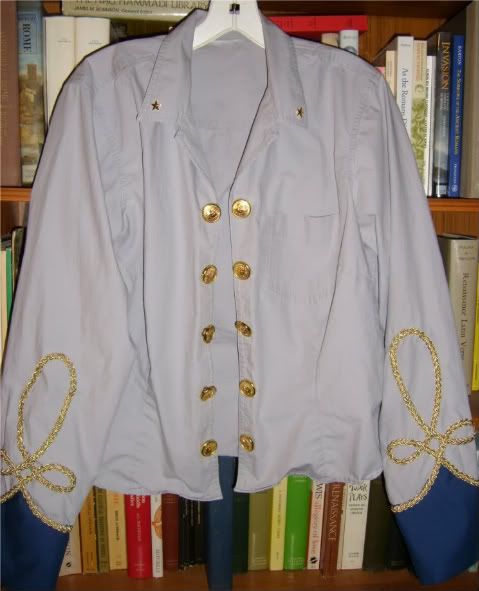 This was made for the Breaking Dawn release party. I was going as Jasper. And I wanted to be a soldier. This took about 20 hours to hand stitch all that gold brocade.



This is one of my very favorite Altered Book spreads. Done in the Twilight round robin, it was a "Mrs. Cullen" spread. I have a deep fondness for silent era films and such and this Mary Pickford in the picture.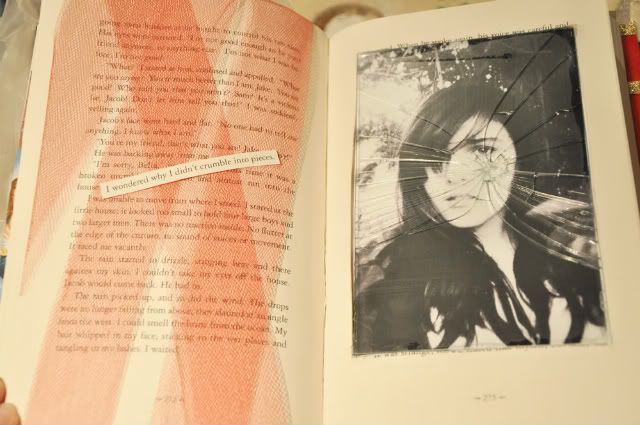 Another spread, this one in a New Moon one. Yes, that's real cracked glass and it was SO much fun to do. :D



I miss making these. They were fun. Hand painted on rocks. They were so rockstar.

If for whatever reason you're interested in my drawing and photography, check out my deviantArt here: http://davetheedgeevans.deviantart.com/ but I'm not going to post them here.

These were my main bestsellers on Etsy before I retired the style.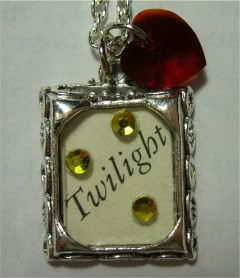 This is my current best seller on Etsy, it's the Camp Half Blood necklace inspired from the Percy Jackson series. Hand-painted on 14 mm wooden beads.


I actually paint a lot better now, but haven't updated the picture. :x

So what should I expect with the blog?
Tons of cute stuff!! But seriously, I'm going to feature literature inspired crafts (most of them will be for sale), feature film inspired crafts and have a weekly movie review with crafts related to the movie!
On top of that, I'll even post about some really cool how-to's to some really neat crafts! Nothing is impossible! :)

Thanks for reading!!
I also hope to be able to hold some contests and such after I get myself a bit more established.